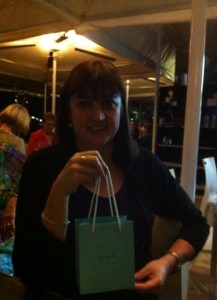 Well its been a most wonderful week- my family, friends and students spoiled me incredibly and now I am the proud owner of some stunning pearl earrings and a pearl necklace which came in a little blue bag . Three friends and one sister flew from interstate to help me celebrate , there were conspiracies and surprises, good friends and lovely gifts and I was overwhelmed.
Then I launched straight into the College production week and so it has been a week of late night rehearsals.
So I have not had time to write- so I am posting a blog I wrote for the College Alumni about 2 years ago – because being so spoiled last week made me think of it. Won't make a practise of recycling forgive me I won't turn 50 again !
Upgrade Me
Last week my first (and to date only) experience flying business class . I'm a late bloomer!
I used my frequent flyer points and flew business to Brisbane. I loved it!
I loved the extra leg room. I loved the little hot towels. I loved the real plates and glasses. I loved getting off the plane first. I really loved the food and wine.  I had a blast and enjoyed every minute of it.
However none of those things were what impressed me most. What impressed me most is the difference in how you get treated in business class. The staff knew my name and called me by it. They asked me if there was anything I needed at the end of the meal. They went out of their way to meet and anticipate my needs.
The bizarre thing is this, after about half an hour of this it started effecting how I felt. I felt respected and valued, and the way the lady sitting next to me spoke to me was entirely different to other conversations I have had on planes. But I am still me- and I am the same me who a few weeks earlier was jammed into a full economy flight for 30 hours on the way back from Europe with no little hot towels or wine in a real glass!
I started to think how easy it is to make people feel better about themselves- just by treating them with respect and giving them value. (And giving them a little hot towel if you have one handy!) We have the chance every day to give some-one's life an upgrade.
Jesus constantly upgraded people. He discussed theological concepts with an outcast woman getting water at a well – when other men of the town would have shown contempt. He asked a despised tax collector to have dinner with him. He extended grace and mercy to a woman who was sleeping with some-one else's husband. He valued people no matter what their circumstances.
I loved business class – but it ended for me in 90 short minutes. Wonder if we followed Jesus' example by upgrading some-one's life today if it could last a whole lot longer?
(Hey if you like this blog and want it in your in-box every week – in the Comment box you can select to have it sent to you whenever I publish – saves you watching out for it on social media ! )