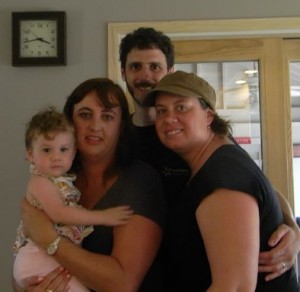 This post is dedicated to my friend Jenn who cares enough to write me long emails challenging me on things  I publish and even calls from NY to clarify ! That's her above with her wonderful husband Matt,their beautiful daughter Grace and me. I love them.
What if the people in your life never change? What if all your prayer and pleading with God amounts to nothing, will you be OK ?
We only have authority over our own lives to bring change – and even then we will not reach perfection this side of heaven. So we can pray and pray and hint and confront but people only change when they are ready and see the need for change.  So we had better get happy with the people in our world and how they are right now.
THis doesn't stop us believing the best in people and trusting God that he is doing a good work in all of us. However I have found that God's priorities are different to mine. I wish he would work on the annoying habits in my family/friends/ bosses/ staff/ students lives – but frequently he sees other things that are more important to him and works on them. I am sure this works in reverse, that there are people who have prayed and believed for me to change in an area that I don't see it and may never.
I have had numerous conversations this week with people believing for people to change- and in some cases betting their future on it – it is a risky business. Better to ask yourself these questions
If he/she never gets a better job do I still want to marry them? If he/she never sorts out this issue are they the sort of person I want to be friends with? If he/she never changes their manner am I happy to follow them? If he/she never gets more skilled in this area do I still believe in them?
People have free will – and they use it. Its a glorious thing God gave us. However don't we all wish sometimes he would override it and just sort out the stuff in people that bugs us and make our lives more simple! Ha
Comment away- subscribe if you like !